Byron Primary School
Curriculum Intent
Byron Primary School serves a vibrant, ambitious and richly diverse Inner City Community, where the majority of children have English as an additional language. Many children live in areas of high deprivation and frequently experience stress and challenge. Many of our children have little or no access to the United Kingdom's wider Cultural Capital. Many of our children have limited opportunity for physical activity and consequently suffer from high levels of obesity.
Our intention is to meet these needs through our carefully planned curriculum.
The Primary Curriculum
"The national curriculum provides an outline of core knowledge around which teachers can develop exciting and stimulating lessons to promote the development of pupils' knowledge, understanding and skills as part of the wider school curriculum." The Primary National Curriculum in England
At Byron Primary School, we have worked together using the new framework for the National Curriculum in England to plan a curriculum that is enquiry and skills based. It reflects the needs and interests of our children and is often inspired by those needs and interests. It is, by its nature, an evolving and flexible curriculum, that provides a progressive development of skills and knowledge, and seeks to build on the prior knowledge and learning of the pupils at our school. All pupils should be excited by the learning opportunities the curriculum provides, and be enabled to make good progress in an inclusive, nurturing and stimulating environment. We seek to develop opportunities for pupils to become independent, take risks and be curious about the world they live in so that they will all become happy, successful and confident learners.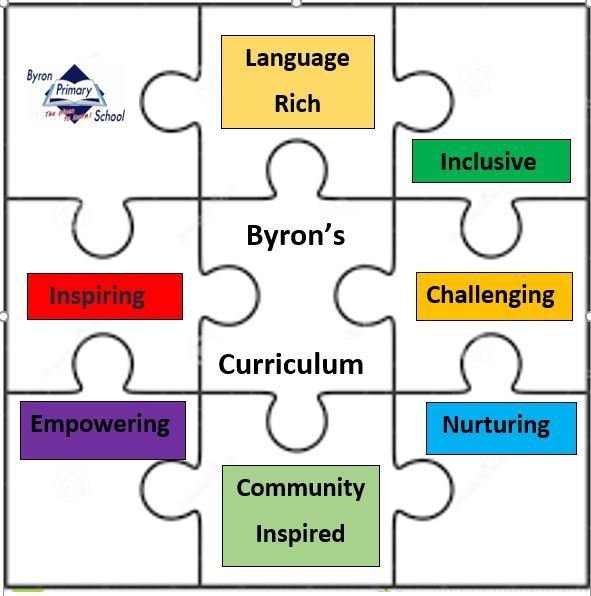 Byron Primary School's curriculum is Language Rich
Through our well-planned lessons, we help children to communicate their ideas using appropriate vocabulary using a range of methods. We develop and build confidence as communicators by providing high quality models, allowing us to decode our world, communicate across the globe and learn from the past. We strive to find ways to develop a life-long love of reading, promoting engagement and enjoyment.
Byron Primary School's curriculum is Inspiring
Through a variety of approaches, which include theme days, educational visits, practical and real life experiences and outdoor learning, in our school and the local environment, teachers plan activities that engage and stimulate children's learning whilst enriching the curriculum content in a creative, stimulating way. We aim to offer the children enriching experiences and diverse opportunities, through visits, visitors and clubs and develop aspirations for the future.
Byron Primary School's curriculum is Empowering
Children are taught to be effective, independent learners who develop 'LORIC' skills. This enables them to develop the resilience needed to be intrigued by their mistakes and enjoy challenge, whilst fostering a life-long love of learning.
Byron Primary School's curriculum is Challenging
At Byron, we believe that every child can learn and so we use appropriate challenge to enable every child to grow and progress in a language-rich environment. Children develop positive attitudes towards learning and are always eager to succeed and become the best learners that they can be.
Byron Primary School's curriculum is Inclusive
Byron Primary School is a highly inclusive mainstream school that caters for a diverse range of backgrounds, needs and abilities. We have worked hard to design a curriculum that meets the needs of all our pupils, regardless of any barriers to learning they may have.
Byron Primary School's curriculum is Nurturing
Our PSHCE curriculum allows children to explore issues and feelings in a safe environment. They learn how to keep themselves healthy (physically and emotionally), safe (in the real world and the digital world) and understand how to respect the views and beliefs of others.
Byron Primary School's curriculum is Community-inspired
Here at Byron, we have a secure understanding of the need to work in close partnership with the children's families and the local community in order to enhance our curriculum further. We aim to ensure that children develop a sound understanding of themselves and their place in the world around them, and we aspire to prepare them to be active citizens in adulthood.
Above all, we want our children to enjoy school and make the most of every opportunity given to them, making Byron "The Place To Learn" and a place where everyone grows together and creates happy memories.
Below is a table showing the starting points for each term's work in our school. It should be noted, however, that it may be subject to change as we develop our Curriculum. Where possible, all learning is taught thematically:-
Autumn Term
Spring Term
Summer Term
Nursery
Reception
Year 1

Our School

"Toy Story"

Science - Everyday Materials

ICT - Pictograms, algorithms

History - Chronology of toys, interpretation of artefacts.

Geography - Locate countries on a World Map

Art - Printing

RE - God - Islam/Christianity

Physical - Rugby, Multi-skills, Active Maths, Daily Mile, Forest School

Polar Regions

Year 2

Brilliant Bradford - an amazing place to live!

"I'm an Evacuee. Get me out of here!"

Science - Humans

ICT - Using Excel graphs, creating sequenced commands

History - Evacuees, Winston Churchill, interpreting artefacts

Geography - Identify the 7 Continents, locate countries on World Map, comparing and contrasting town/countryside.

Art - Drawing techniques, tone and texture

RE -

Physical

The story of Chocolate
Year 3

What a performance! - Bradford Theatres

Terrible Tudors

Science -Rocks and precious stones.

ICT - Power Point presentations, creating word documents with text box and images.

History - The Tudor Monarchy, interpreting secondary and primary sources of evidence and different accounts of history.

Geography - Comparing the knowledge of the World over time, identifying the 7 Continents and 5 Oceans on a map and locating countries, using 8 points of a compass and 4 figure grid references.

Art - Drawing skills, developing intricate patterns and marks, experimenting with different grades of pencil.

RE - Places of Worship - Islam/Christianity.

Physical - Swimming, Multi-skills, Cricket, Active Maths, Daily Mile, Forest School

Rainforests
Year 4

Why is Saltaire a Heritage Village?

Plastic Fantastic?

Science - States of Matter/materials including plastic, living things and their habitats.

ICT - Word documents using a banded quote text box and manipulating images. Computer science - coding.

History - Plastic Pioneers - Alexander Parkes and Nathaniel Wyeth.

Geography - Plastic pollution and its effects on UK coastlines.

Art - 3D sculptures using recycled, natural and man-made materials.

RE - What does it mean to live a good life? Islam/Christianity. Community - Sikhism.

Physical - Cricket, Multi-skills, Active Maths, Daily Mile, Forest School.

Egypt
Year 5

In the distance ... Haworth

Energy Heroes

Science - Forces, electricity

ICT - Using search engines - interpreting and validating the information.

History - Thomas Edison, Benjamin Franklin, Humphrey Davy - Who is the biggest Energy Hero and why?

Geography - Fossil fuels - natural resources - locating on maps and atlases. Conserving energy supplies.

Art - Painting - colour mixing, tones and tints.

RE - God - Sikhism, Being Human - Buddhism

Physical - Rugby, Multi-skills, Active Maths, Daily Mile, Forest School

Rome
Year 6

Whitby - Room 13

Crime and Punishment

Science - Light and electricity

ICT - The validity and plausibility of information from the Internet. Programming - Scratch.

History - How Britain has been policed over time and how punishments for theft have changed over time.

Geography - Comparing crime rates in different counties, cities and regions of the UK - map work. Field Study - graffiti.

Art - Street Art

RE - Community - Buddhism, Being Human- Humanism.

Physical - Hockey/Rugby, Multi-skills, Active Maths, Daily Mile, Forest School

Olympics